Alec Baldwin sued for defamation by the family of a soldier who died in Afghanistan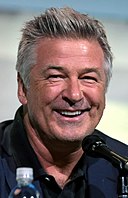 Actor Alec Baldwin is being sued for defamation by the family of a U.S. Marine who died in the Afghanistan withdrawal last summer. The civil lawsuit filed in federal court by the sister of the deceased soldier in Wyoming seeks $25 million in damages for claims related to defamation, negligence, and invasion of privacy. The pleadings further state that the family has had continual emotional distress ever since the exchange with the actor happened publicly online.  
The incident that gave rise to the lawsuit began when the actor accused the deceased marine's sister of being an insurrectionist in a comment on an Instagram post that showed a picture of the woman present in Washington D.C. on January 6th of 2021 with several Trump supporters. The family received a number of threatening and hateful messages after the famous actor made the comment. Baldwin said that he was unaware that the woman was a "January 6th rioter" and expressed regret about donating money to the family after the fatal bombing in Afghanistan that took her brother's life. The woman responded that protest activities are legal, and that she had spoken with the FBI. Baldwin also sent the woman private messages that had similar content regarding the woman being an insurrectionist and that she should own up to her involvement in the attack on the Capitol.  
Alec Baldwin has starred in a number of films since the 1980s, and he has won various awards throughout the course of his career. He has been the subject of recent controversy when he accidentally shot and killed someone with a gun that he thought was a prop on a film set in October of 2021. Baldwin has also become more outspoken politically in recent years, as he strongly supports the Democratic party. 
Defamation lawsuits
In an action for defamation, the plaintiff must show that the defendant made false statements to one or more third parties that resulted in damage to the plaintiff's reputation. While defamation is a fairly broad concept in tort law, there are a number of different types of legal actions related to false statements made for the purposes of harming another person or business. Defamation is sometimes divided into libel, which is defamatory material that is written or published, while slander is a verbal form of defamation. In situations where someone is falsely accused of being involved in criminal activity, such as the Capitol riot, this may be considered slander per se due to the type of harm that it can cause the victim.
A plaintiff in a defamation or negligence lawsuit will also need to provide evidence of damages in order to be successful. That means there must be some kind of tangible harm that can be demonstrated in court.   
Image Source: This file is licensed under the Creative Commons Attribution-Share Alike 3.0 Unported license. Attribution: Gage Skidmore
https://usattorneys.com/wp-content/uploads/sites/2/2022/01/128px-Alec_Baldwin_by_Gage_Skidmore.jpg
198
128
brian
https://usattorneys.com/wp-content/uploads/sites/2/2020/01/logo.svg
brian
2022-01-22 17:11:25
2022-01-22 17:11:25
Alec Baldwin sued for defamation by the family of a soldier who died in Afghanistan