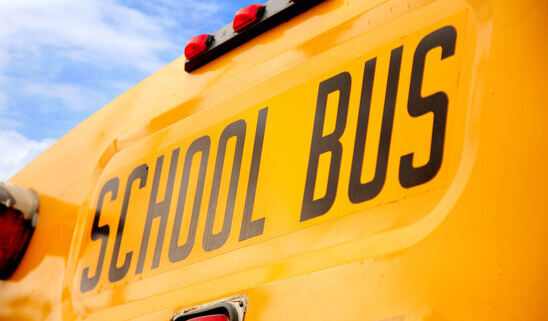 Florida – March 6, 2021
The Jacksonville Sheriff's Office reported a crash in Duval County between a school bus and an SUV.  The driver of the bus heard a loud popping noise and lost control of the bus.  A blown tired caused the drive to lose control and swerve into traffic hitting an SUV, a fence, and a tree. Two children on the bus suffered non-life threatening injuries, and were transported to Wolfson Children's Hospital.  The driver of the school bus was initially found to be at fault by the officers, but the SUV was cited for lack of proof of insurance.  According to the bus driver's driving record, he was found to have previous careless driving citations, and speeding infractions that resulted in a crash.  A past driver record may be used in building a case by a competent accident attorney.
Seatbelts on school buses.
Florida is one of a few states in the country to require seat belts on school buses manufactured after 2001.  The latest data from the Florida Department of Education shows all of Duval County's school buses have two-point lap-style seat belts to secure students. In 2017, there were 73 school buses involved in fatal crashes in the United States.  The increase in passengers in a school bus directly impacts the potential costs of damages in the event of an accident involving injury, or death.  Accident victims should contact experienced legal counsel familiar with damage recovery options.
The persons that can be sued in a bus accident scenario are:
Owner(s) of bus,
Driver of bus,
Commercial insurer of bus,
Regulatory agency supporting bus safety on issues of bus manufacturer and parts manufacturer,
Licensing agencies of privately owned and public transit vehicles, city, county, or state.
When a student is injured, or a loved one has been harmed in a school bus accident, an experienced bus accident attorney can build a winning case for damage compensation.
Federal regulations.
Federal regulations require other passenger vehicles to adhere to certain driving patterns and rules when riding near school buses.  When accidents occur because other drivers break this law, they could be considered negligent and may be responsible for damages.
Compensatory damages.
 The two types of compensatory damages include 1) Economic damages for present and future lost wages, medical bills, future medical care, household expenses and 2) Non-economic damages for pain and suffering and loss of consortium, or companionship.  If it can be proven that a defendant deliberately, with reckless disregard acted in a manner to cause harm to another individual, punitive damages may be awarded in discrete situations.
Seek legal counsel.
A Florida personal injury lawyer who has experience with complex insurance claims and bus accident litigation settlements can assist victims toward relief in the form of damage compensation. USAttorneys.com is a great resource to put individuals in touch with experienced bus accident lawyers who can answer questions and initiate legal action when it is required.
Sources:
https://www.flsenate.gov/Laws/Statutes/2012/Chapter316
https://www.msn.com/en-us/news/us/report-driver-at-fault-in-jacksonville-school-bus-crash-record-shows-history-of-citations/ar-BB1e3H2x
http://www.leg.state.fl.us/statutes/index.cfm?App_mode=Display_Statute&URL=0600-0699/0627/Sections/0627.7407.html
https://www.flsenate.gov/Laws/Statutes/2012/95.11
http://www.leg.state.fl.us/statutes/index.cfm?App_mode=Display_Statute&URL=0700-0799/0768/Sections/0768.72.html
https://www.flsenate.gov/laws/statutes/2011/766.118
https://usattorneys.com/wp-content/uploads/sites/2/2020/05/photodune-431879-school-bus-xs.jpg
365
548
nora
https://usattorneys.com/wp-content/uploads/sites/2/2020/01/logo.svg
nora
2021-03-08 22:50:04
2021-03-08 22:52:34
Passengers recover compensation after a flat tire causes a bus accident in Florida.