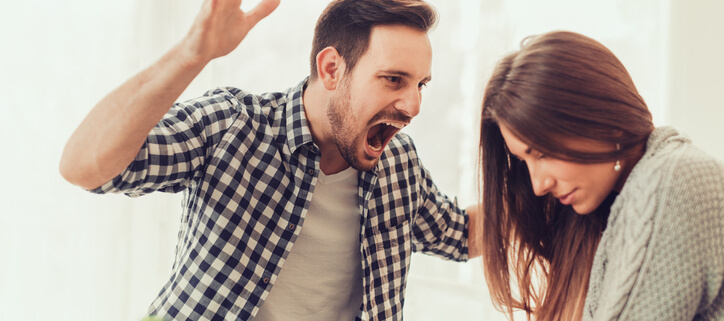 Prior to the COVID-19 virus developing into a pandemic and affecting the U.S., couples who often disagreed on matters or didn't get along had an outlet—they could leave their home. Now, with varying stay-at-home orders in place, many are unable to escape their unhealthy home which has led to more people seeking help with their domestic disputes. In fact, WHNT 19 recently reported that Crisis Services of North Alabama has "noticed a spike in domestic violence calls since the COVID-19 pandemic started."
The group says that although the stay-at-home orders are helping to slow the spread of the potentially deadly virus, they are seeing more problems arising within households in northern Alabama. The CSNA Domestic Violence Response Coordinator, Joleen Heckman has said that calls to their group have increased by 25% in March compared to the year before. Heckman says the increase happened after individuals began getting laid off. But others believe there are additional reasons for why the group is seeing a spike. According to Yalitza LaFontaine with crisis support group AshaKiran, individuals fear that if they leave their home to go to a shelter, they could be exposing themselves to the COVID-19 virus.
Instead, many are choosing to stay in the abusive household to prevent from catching the virus that has sickened more than 427,460 and killed approximately 14,696 in the U.S. alone [Source: Centers for Disease Control and Prevention (CDC)]. The source also highlighted that police are beginning to receive similar calls. Huntsville Police Lieutenant Michael Johnson told the source that "when it comes to domestic violence, we're definitely getting just a little bit more of those."
Are you in an unhealthy relationship that you need help getting out of?
If you live in Alabama and need help filing for divorce or submitting the required paperwork that would protect you from your abuser, contact the Alabama family law attorneys at Hill, Gossett, Kemp & Hufford, P.C. While you might be feeling stuck and with nowhere to turn to for help during this worldwide crisis, our Alabama family law lawyers want you to know we are here to help you in any way we can.
Disclaimer: No representation is made that quality of legal services provided is greater than the quality of legal services provided by other attorneys.
Hill, Gossett, Kemp & Hufford, P.C. can be reached at:
Moody Office
2603 Moody Parkway, Suite 200
Moody, Alabama 35004
Phone: (205) 640-2000
Website: www.hwhlawgroup.com
Leeds Office
7900 Parkway Drive
Leeds, AL 35094
Phone: (205) 699-5500
Springville Office
6441 U.S. Highway 11
Springville, Alabama 35146
Phone: (205) 467-2225
https://usattorneys.com/wp-content/uploads/sites/2/2020/04/iStock-639596496.jpg
483
724
jennifer
https://usattorneys.com/wp-content/uploads/sites/2/2020/01/logo.svg
jennifer
2020-04-10 15:51:41
2020-04-18 18:42:13
Domestic Violence Calls are on the Rise in Alabama After Stay-at-Home Orders Are Put into Place