Failing to wear a seat belt in West Virginia can cause these serious problems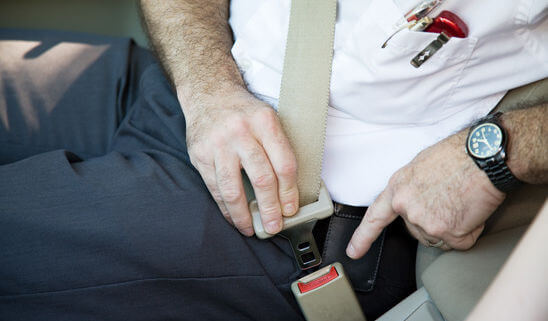 Bridgeport, WV – West Virginia and other states have numerous safety regulations that are meant to minimize the possibility of injuries and death when a car crash happens. This is because accident data and motor vehicle crash research has shown that people driving in or passengers in motor vehicles consistently benefit from the use of safety belts in cars. Consequences like disabilities, serious injuries, and death are much less likely to happen when the people in the vehicle are properly secured. The state considers this an important enough safety issue that there are legal consequences for not wearing a seat belt, both in terms of the possibility of fines as well as reduced damages if a civil lawsuit is necessary. 
West Virginia seat belt laws
Drivers in West Virginia are supposed to wear their seat belts at all times while in the car. This is required by law and people who violate the state's seat belt regulations can face various fines and consequences. However, this is not considered a primary offense in the state, meaning that police officers will only issue tickets to those not wearing seat belts if the car has been pulled over for another reason. 
There are special rules for children under the age of eight, as they must be secured in an approved child safety seat. Passengers age eight through seventeen need to wear seat belts anywhere in the car, while adult passengers in a back seat do not need to wear a seat belt. Certain individuals with documented disabilities may not be required to wear seat belts either if they have an approved medical condition. 
Seat belt use can affect lawsuits and insurance claims 
If the driver was not wearing their seat belt at the time of the motor vehicle crash, an insurance company may try to say that the injuries were caused in part by the person's failure to follow the seat belt law. Based on the principles of comparative negligence, it is common for drivers who did not wear their seat belt to have their compensation reduced by as much as five percent, even if the other driver was clearly at fault for all other aspects of the collision. The logic behind this rule is that the person's injuries may have been much less severe if they had taken the necessary safety precautions. 
Specific advice about negligence and the available compensation should be obtained from an attorney.  
Motor vehicle crash lawyers in West Virginia
Kaufman and McPherson is a firm that deals with accident lawsuits in the state of West Virginia. People who need advice from a local lawyer can contact their attorneys to schedule a meeting. 
Firm contact info:
16 Sterling Drive, Suite 205, P. O. Box 768, Bridgeport, West Virginia 26330
304-584-6463
wvattorneys.com
https://usattorneys.com/wp-content/uploads/sites/2/2021/09/photodune-467822-fastening-seatbelt-xs.jpg
365
548
brian
https://usattorneys.com/wp-content/uploads/sites/2/2020/01/logo.svg
brian
2022-03-09 15:59:13
2022-03-09 15:59:14
Failing to wear a seat belt in West Virginia can cause these serious problems