Miami highway crash causes a fire and blocks traffic after two trucks collided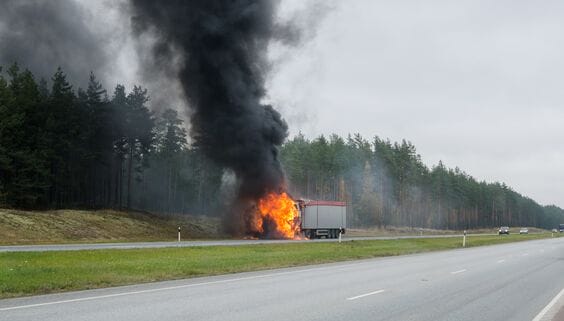 A collision involving two trucks in Miami Dade County caused a blaze and required a response from local fire rescue crews.
Truck crash causes a fire during rush hour traffic
The incident began on a Thursday morning at about 7 am when both vehicles were on the westbound lanes of State Road 826 near the Northwest 37th Ave exit. A helicopter for the local news network hovered above the collision and saw that a landscaping pickup truck that was pulling an equipment trailer and a larger tractor trailer were the two vehicles involved. The trailer behind the pickup truck burst into flames from the collision, while the tractor trailer was at a rest on its side in the grass behind the guardrail. The footage of the scene captured members of Miami Dade Fire Rescue attempting to control the fire.
A driver was removed from one of the vehicles by emergency crews, but he did not seem to be injured. The tractor trailer had a fuel leak, but a hazmat crew responded to the scene and apparently had the spilled fuel under control and cleaned it in a short period of time.  
Police blocked the westbound lanes on 826, also known as the Palmetto Expressway, for several hours while emergency workers were in the area. An exact cause of the accident was unknown, and there were no reports of injuries or other vehicles affected. 
Operating commercial vehicles and related regulations
The government attempts to regulate drivers with commercial licenses more thoroughly than other drivers due to the possibility of incidents like this. When large vehicles crash on highways, the results can be disastrous, with multiple people being injured or killed and large amounts of property damage. 
Commercial drivers are only allowed to drive a certain number of hours each day. There are also stricter rules where offenses such as speeding or driving under the influence can cause their commercial license to be revoked or suspended. Companies that hire these drivers must also ensure that all of these rules are followed. If a company or individual driver was negligent, they may be sued and brought to civil court.
Civil cases against trucking companies
Once an injured person has brought a case against a driver and their employer, they can ask for a certain amount of damages as compensation for their losses. This usually includes all expenses related to medical treatment, missed time from work and lost wages, and even emotional pain and suffering if the accident caused a severe amount of trauma. It is best to speak with a lawyer to determine the exact value of a truck accident.  
Speak with a local attorney after a truck crash
There are lawyers in Florida who assist people with lawsuits and other related issues after truck collisions. To get immediate assistance in the Miami area, contact Orlando R. Murillo, P.A. 
https://eetp4u6ayku.exactdn.com/wp-content/uploads/sites/2/2020/07/photodune-13705941-the-burning-truck-on-the-road-xs.jpg?strip=all&lossy=1&quality=80&webp=80&ssl=1
355
564
brian
https://usattorneys.com/wp-content/uploads/sites/2/2020/01/logo.svg
brian
2020-07-14 07:09:21
2020-07-14 07:09:21
Miami highway crash causes a fire and blocks traffic after two trucks collided