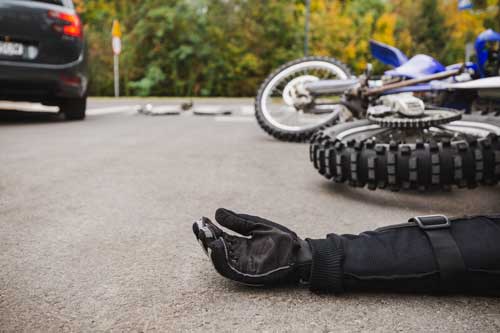 Critical Motorcycle Accident in Penn Township, Lancaster County, Pennsylvania
In a severe mishap that unfolded in Penn Township within Lancaster County, Pennsylvania, a 48-year-old male motorcyclist from East Petersburg suffered significant injuries. The incident took place around 8:30 p.m. at the crossroads of Lititz Road and Fruitville Pike. Local law enforcement, fire departments, and emergency medical services were dispatched to the scene, confirming that the motorcyclist had life-threatening injuries. Subsequently, he was airlifted to a hospital. The victim was not donning a helmet and was the sole person on the motorcycle when the accident occurred.
Circumstances Leading to the Collision
Initial investigations by the Northern Lancaster County Regional Police revealed that a 30-year-old woman from Hummelstown was involved in the accident. She was driving a 2017 Subaru Impreza westbound on Lititz Road, following a pickup truck. The truck took a right turn onto Fruitville Pike, after which the woman continued straight. It appears she failed to notice the southbound motorcyclist on Fruitville Pike, eventually causing the collision as she crossed the intersection.
Ongoing Investigations
The police department has assigned a specialized reconstruction team and the NE Lancaster County Crash Unit to work in tandem with the Lancaster County District Attorney's Office. This collaborative effort aims to provide a comprehensive crash analysis and determine any legal ramifications. Moreover, the police department urges anyone with relevant information to come forward. Lancaster County Crime Stoppers and Northern Lancaster County Regional Police can be reached for confidential tips.
Importance of Legal Counsel
Accidents, especially ones involving serious injuries, often necessitate legal guidance to navigate the complexities that arise in the aftermath. Lancaster, Pennsylvania Accident Attorneys can offer invaluable advice on various aspects like insurance claims, medical bills, and potential lawsuits. Expert Pennsylvania Accident Attorneys can dissect the nitty-gritty of local laws, helping victims or those accused to understand their legal standing and options.
Why USAttorneys.com?
When it comes to finding the right legal representation, USAttorneys.com stands out as the go-to platform to find the most competent Accident Attorneys. The portal's extensive directory allows users to filter through numerous Attorneys, based on their specialty and location. Whether you are a victim seeking compensation or someone potentially facing charges, USAttorneys.com simplifies your search for legal excellence.
Conclusion
The unfortunate incident in Penn Township brings to light the importance of being vigilant on the road. As law enforcement agencies piece together the facts, it is crucial for all parties involved to consult with specialized legal advisors. Whether you are a victim or a party potentially at fault, comprehensive legal guidance can make a substantial difference in the outcome of your case.