Multi-truck accident results in freed lab monkeys on a highway near Pittsburgh.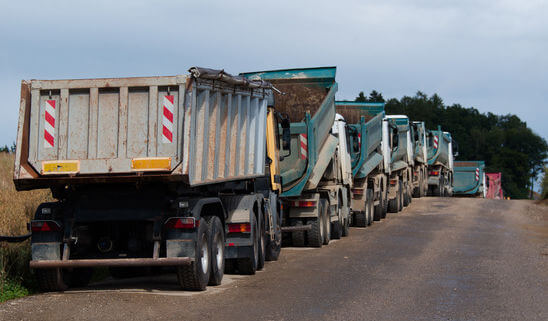 Pennsylvania – January 23, 2022
Highway truck accidents where the load is "live" can cause major traffic problems, and the treatment of the animals is of utmost concern. The Federal Motor Carrier Safety statistics do not routinely report livestock truck accidents, although they do publish statistics regarding accidents caused by the collision with an animal. A truck carrying about 100 monkeys was involved in an accident with a dump truck in Pennsylvania.  State police reported the truck carrying the crated monkeys pulled in front of a dump truck and the dump truck crashed into it resulting in the monkey crates being strewn about the highway.  Authorities searched for several monkeys that appeared to have escaped the vehicle after the crash in Montour County and all were eventually accounted for. After a multi-vehicle truck accident results in injury or property damage, it may be wise to hire a Pennsylvania accident attorney to determine responsibility for damage compensation.
Animals and highway safety reports.
Safety reports have shown that live animal transporters have categorized their load as farm supplies, produce, grain feed, and logging in many cases.  Truck transport has not been regulated to account for live animals even though large numbers are transported solely by truck.  Data recorded does not calculate the numbers of animals that are injured or die in highway transport accidents near Pittsburgh.  This information might be useful as live animals tend to shift causing imbalances in the load, perhaps negatively affecting the safety of the truck itself and may be a cause to the accident. The U.S. Federal Government does not have solid policies or procedures for dealing with live animal transport accidents.  Accident victims should discuss concerns with Pennsylvania truck accident lawyers.
Transport disasters.
The Federal Emergency Management Agency considers animal transport accidents to be a type of disaster and has outlined procedures for Transportation Accidents/Euthanasia to educate persons at the accident scene on how to proceed with emergencies involving live animals.  The objectives of the Accidents/Euthanasia unit are to: 1) identify common causes of transportation accidents; 2) list common methods to mitigate transportation accidents; 3) identify important considerations for euthanasia; 4) determine vulnerability to transport accidents; and 5) understand issues surrounding the euthanasia of animals.  Addressing treatment of the animals when the owner is not present and cannot be contacted is a vital concern.
Fault.
Determining fault after a multi-truck crash is a matter for those who have reviewed police reports, witness reports, property damages, roadway marks and other factors present at the time of the accident.  Commonly, the persons that can be sued in a truck accident scenario are:
Owner(s) of truck as employer,
Driver of truck,
Commercial insurer of truck,
Regulatory agency supporting truck safety on issues live animal transport,
Licensing agencies of privately owned and public transit vehicles, city, county, or state.
Damages.
Insurance compensation for any loss sustained as a result of a vehicle accident may be possible in the State of Pennsylvania and experienced lawyers  can prove negligence by assigning  "fault" in a legal proceeding that addresses property damage, physical injuries, and wrongful death.  Damages that may be recovered include:
Medical bills
Current and future compensation losses
Pain and suffering
Loss of care, companionship
Estate administration expenses
Funeral expenses if a wrongful death occurs
Hire a lawyer.
Under Pennsylvania's hybrid insurance fault system, a driver may turn to his or her own insurance company for compensation for injuries up to the personal injury protection, or "PIP"  limit, regardless of fault. Drivers also have the right to circumvent Pennsylvania's no-fault law and proceed directly against the at-fault party under certain circumstances. An experienced attorney at Scanlon & Wojton, LLC, can be instrumental in reviewing insurance policies and addressing the live transport issue as a possible cause for the accident.
Scanlon & Wojton, Attorneys at Law
The Mitchell Building
304 Ross Street, Suite 510
Pittsburgh, Pa 15219
Phone:  (412) 918-1241
Fax: (412) 235-7275
Sources:
https://usattorneys.com/wp-content/uploads/sites/2/2021/07/photodune-3346833-dump-trucks-xs.jpg
364
548
nora
https://usattorneys.com/wp-content/uploads/sites/2/2020/01/logo.svg
nora
2022-02-04 14:06:36
2022-02-04 14:12:30
Multi-truck accident results in freed lab monkeys on a highway near Pittsburgh.