There is an important reason why property owners in Iowa need to keep their businesses clean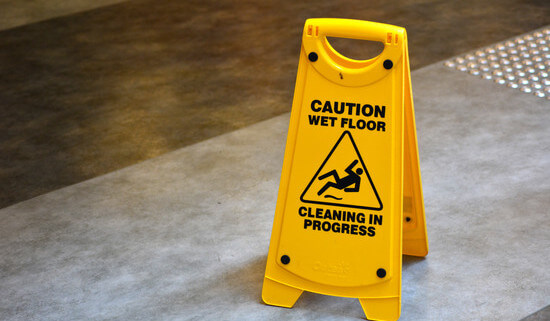 Iowa City, IA – Property owners and even homeowners can be held legally responsible for injuries to guests and made to pay for their injuries. This is one of the main purposes of homeowners insurance or other types of property insurance. There is a general principle in tort law that any person, business, or entity that causes harm to another person can be held financially responsible through a civil lawsuit. Personal injury lawyers in Iowa and other states handle these kinds of cases every day. 
What is premises liability?
Premises liability is the general idea that a property owner has a duty of care to all people who are on their land, in their stores, or present in other commercial or residential spaces. If someone is hurt during expected use of the land, the owner can be financially liable for any costs sustained by the victim after they file a negligence lawsuit. This negligence can come in the form of things like improper cleaning, neglect on maintenance duties, or failing to restrict access to areas that contain hazards.  
Slip and fall accidents
The term slip and fall accident is used for a number of different premises liability issues. The general idea is that a guest who is on the property of a person or business should not be harmed during a sudden accident like slipping on a wet floor, and if this does happen, it is likely because the property owner was negligent. 
Opportunity to inspect
A crucial issue in a premises liability case is whether the property ownership or management had enough time to become aware of an issue and secure the area. A common example is if there is a spill on the floor in a retail establishment. It is possible that another customer could have caused this hazard just seconds before another person was harmed, but it is also possible that business was notified and waited too long to clean the area, which would be considered negligence. Gathering evidence such as video surveillance or property maintenance records can help the plaintiff in a lawsuit determine how much time elapsed between the hazard and the injury. A crucial issue is for the jury to decide whether a reasonable business owner in the same situation would have had enough time to make the area safe and avoid the injuries. This reasonable person standard is applied in all kinds of negligence cases.
Iowa personal injury attorneys
Eells and Tronvold Law Offices helps clients throughout the state of Iowa with injury lawsuits. Their attorneys are available to meet with anyone who needs advice and specific information about the amount of compensation available.
Firm contact info:
Eells and Tronvold Law Offices
1921 51st Street NE, Cedar Rapids, IA 52402-2400
319-393-1020
www.eellsandtronvold.com
https://usattorneys.com/wp-content/uploads/sites/2/2021/06/photodune-7759516-slippery-floor-surface-warning-sign-and-symbol-xs.jpg
364
550
brian
https://usattorneys.com/wp-content/uploads/sites/2/2020/01/logo.svg
brian
2022-03-02 07:43:12
2022-03-02 07:45:02
There is an important reason why property owners in Iowa need to keep their businesses clean