This is why commercial vehicle drivers are responsible for paying for damage in Merrydale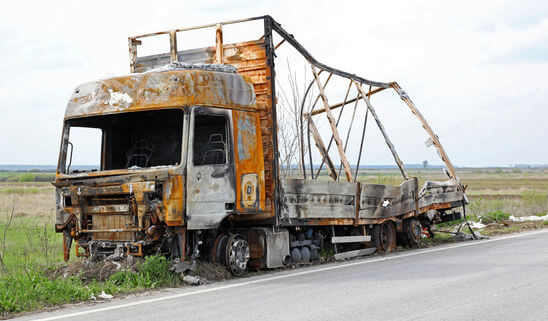 Merrydale, LA – There is a general rule in civil cases that the person or business who causes losses must pay the plaintiff when they are sued. When considering truck or commercial vehicle accident lawsuits, this is normally done by showing some kind of mistake by the driver. The employer will then be named as the defendant in the lawsuit, as they are responsible for the actions of drivers while they are actively working in most cases unless the driver was an independent contractor. People who need more specific advice regarding this process can contact a local accident attorney to see if they need to file a lawsuit or take other actions.   
Civil lawsuits and compensation
Anyone who has been hit by the driver of a semi truck or other commercial vehicle should notify their insurance company as soon as possible and then speak with a lawyer. The high risks associated with trucking require the business to purchase a special high coverage insurance policy. This means that if the driver is sued, the insurance provider will have to pay out various costs such as the victim's medical bills and lost wages, along with pain and suffering damages. The average total amount of damage caused by a semi truck in an accident can range between a few hundred thousand and a million dollars. 
Negligence cases
The lawsuit filed by the victim will need to show some kind of negligence by the truck driver. This means that they did not follow the accepted standards of care for similar drivers, which resulted in the accident. The victim must also show actual causation and damages or losses. Evidence of negligence by a trucker is usually a mistake such as speeding, illegal lane changes, failing to stop at a red light or stop sign, or more serious offenses such as drunk driving or distracted driving. 
Trucking regulations
When the accident is being investigated, there will also be an analysis of whether the driver was following all regulations as required. This includes things like taking breaks at required times, limiting driving hours with rest periods, making sure the truck and cargo is properly loaded, and the driver's credentials such as their CDL and whether it corresponds to the specific class of vehicle they were using. Failure to follow these regulations can also become evidence of fault or negligence during the lawsuit. 
Louisiana truck accident lawyers
Miller, Hampton, and Hilgendorf is a firm that works with local clients to assist them with their accident lawsuits in Merrydale. Anyone who needs to consult with their attorneys can schedule a meeting to get more information about trucking collisions. 
Firm contact info:
Miller, Hampton, and Hilgendorf
3960 Government St., Baton Rouge, LA 70806
225-343-2205
www.mlhlaw.com
https://usattorneys.com/wp-content/uploads/sites/2/2021/12/photodune-2580238-truck-fire-xs-1.jpg
365
548
brian
https://usattorneys.com/wp-content/uploads/sites/2/2020/01/logo.svg
brian
2022-03-11 10:39:15
2022-03-11 10:39:15
This is why commercial vehicle drivers are responsible for paying for damage in Merrydale