Three Types of Driver Distractions That Cause Accidents in Fort Lauderdale, Florida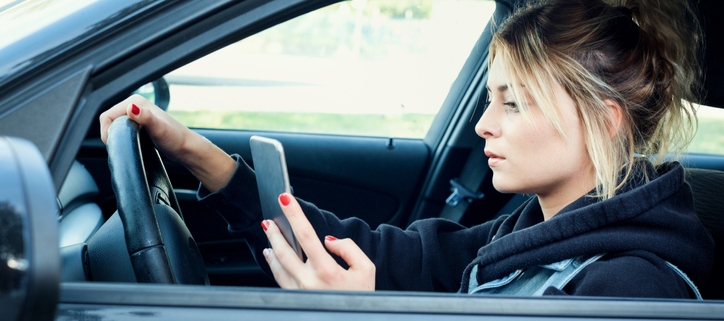 The National Highway Traffic Safety Administration (NHTSA) estimates that each day, nine people pass away and more than 1,000 people suffer injuries in accidents that are caused by distracted drivers. There are three main types of driver distractions which include visual, manual, cognitive. When a driver is visually distracted, it means he/she has taken their eyes off the road. Drivers who are manually distracted have taken their hands off the wheel, and motorists who are cognitively distracted have taken their mind off of driving.
Visual Distractions
Some of the more obvious visual distractions that tend to deter a driver's attention away from the road include:
Looking at their cell phone to answer an email, call, or text.
Looking at the GPS for directions.
Looking at the scenery while driving.
Manual Distractions
Common manual distractions include:
Eating
Putting on makeup
Tending to children in the backseat
Using their hands to text, call, or browse social media websites.
Reaching for something on the floor or the backseat.
Cognitive Distractions
Some examples of cognitive distractions include:
Driving while upset, angry, or sad.
Engaging in conversation with someone on the phone or with a passenger.
Daydreaming
Although any form of distracted driving is dangerous and poses as a threat to others traveling on the road, texting while driving is especially dangerous as it "combines all three types of distraction," cites the Centers for Disease Control and Prevention (CDC).
Florida Law Prohibits Texting While Driving
In an effort to help make roadways safer in Florida, the State enacted the Wireless Communications While Driving Law that requires drivers "to put their phones down and focus on driving." The law states that "a person may not operate a motor vehicle while manually typing or entering multiple letters, numbers or symbols into a wireless communications device to text, email, and instant message." In addition to this, the law also prohibits drivers from "using a wireless communications device in a handheld manner in a designated school crossing, school zone, or active work zone area."
The Repercussions of Driving Distracted
If a driver in Fort Lauderdale, FL has caused a distracted driving accident resulting in injuries to another, he/she can be held liable for compensating them for various expenses related to the accident. In the event a driver or a relative of theirs was recently involved in a car accident in Florida and needs more information on recovering compensation for their injuries/losses, they can contact Madalon Law to speak with a Fort Lauderdale, FL car accident lawyer.
Madalon Law Advocates for Those Who Have Been Injured as a Result of Another's Negligent Behavior
Madalon Law has been helping accident victims for years obtain the justice and compensation they are due. Anyone who is a victim of a distracting driving accident is encouraged to contact this car accident law firm in Fort Lauderdale, FL to learn more about their legal rights.
You can reach Madalon Law at:
100 N. Federal Highway, #CU5
Fort Lauderdale, FL 33301
Phone: 954-923-0072
Website: www.madalonlaw.com
https://usattorneys.com/wp-content/uploads/sites/2/2020/01/iStock-865339342.jpg
483
724
jennifer
https://usattorneys.com/wp-content/uploads/sites/2/2020/01/logo.svg
jennifer
2020-10-08 12:17:14
2020-10-08 12:17:14
Three Types of Driver Distractions That Cause Accidents in Fort Lauderdale, Florida