Westmoreland County Transit specific duty of care for Pittsburgh passenger safety.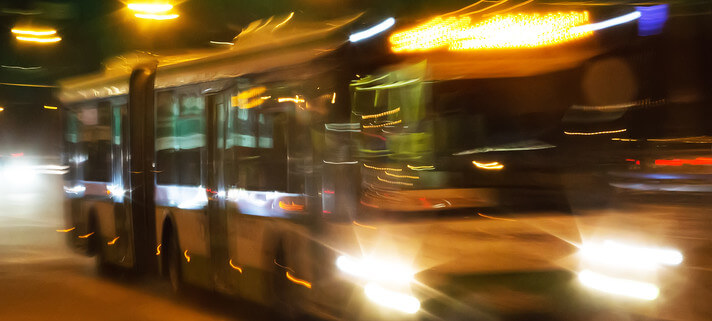 Pennsylvania – March 15, 2022
Two people were injured in a bus crash on a January morning on the South Shore near Station Square. The crash occurred near the intersection of East Carson Street and Smithfield Street Bridge when a Westmoreland County Transit bus crashed into a utility pole near a bus stop.  The injured people were transported to the hospital for evaluation and care. An experienced bus accident attorney can be of assistance when an accident involves a common carrier such as a bus, where driver responsibility mandates a higher level of care because of paid services to the public. Non-commercial drivers are required to operate vehicles with reasonable care, but a common carrier must utilize a higher degree of care to ensure the safety of passengers, and the public they serve.
Accidents.
School buses, tour buses, charter buses and public transit buses are in the news when an accident occurs because of the inflated amount of damage tied to a crash, the number of accident victims, and the frequency of accidents on record. Bus accidents often occur because of driver error, but there are times when they are related to a mechanical problem, dangerous roadway condition, or the fault of another driver. Negligence will need to be proven by a skilled accident lawyer, and fault could be placed on a bus driver, an owner,  a manufacturer for mechanical error, other drivers, or a bus company manager who decides on the transportation route a bus will follow.
Duty of care.
When bus drivers, or companies do not observe the higher duty of care they owe to other drivers, it can be considered an act of negligence when injury, or property damage occurs. A bus accident attorney will be able to outline the special rules that apply when a passenger is injured as a result of a bus accident. Bus drivers have different demands by regulation as to their safe ability to operate a passenger carrier. The specific medically disqualifying conditions found Under 49 CFR 391.41 are hearing loss, vision loss, epilepsy, and insulin use. Most commercial bus drivers are required  to have commercial drivers' licenses (CDL).
Recoverable damages.
Medical bills and burial expenses,
Compensation for lost wages,
Compensation for pain and suffering,
Punitive damages that are intended to punish the person who caused the death.
Damage capitations.
Monetary awards in Pennsylvania have no cap on most damages, but there is a cap of $500,000 against local government claims, and a $250,000 limit on claims against the State.
Seek legal counsel.
An experienced bus accident attorney can guide individuals on the actions that need to be undertaken after bodily injury, or property damage occur in a bus accident. Passengers, pedestrians, and other motor vehicle operators should know what actions to take if they are involved in a bus-related accident that negatively affects someone's livelihood, their own livelihood, and results in damages to their person, property, or ability to earn wages. Scanlon & Wojton will fight for comprehensive damage awards for personal injuries and property damage reimbursement after a bus crash in Pennsylvania.
Scanlon & Wojton, Attorneys at Law
The Mitchell Building
304 Ross Street, Suite 510
Pittsburgh, Pa 15219
Phone:  (412) 918-1241
Fax: (412) 235-7275
Sources.
https://www.post-gazette.com/local/city/2022/01/10/station-square-bus-crash-south-shore-pittsburgh-east-carson-street-smithfield-street-bridge/stories/202201100088
https://www.fmcsa.dot.gov/regulations/title49/part/383
https://www.fmcsa.dot.gov/regulations/understanding-passenger-carrier-regulations
https://usattorneys.com/wp-content/uploads/sites/2/2021/06/iStock-924197940.jpg
491
712
nora
https://usattorneys.com/wp-content/uploads/sites/2/2020/01/logo.svg
nora
2022-03-15 14:50:32
2022-03-15 14:51:48
Westmoreland County Transit specific duty of care for Pittsburgh passenger safety.