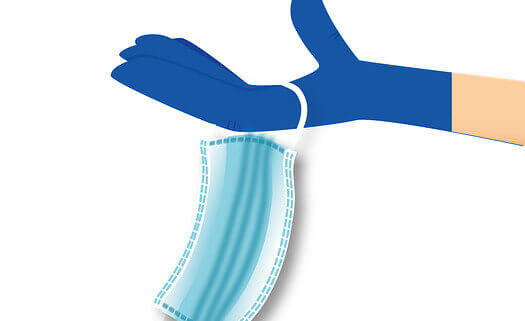 Package delivery workers have and continue to play an integral part in keeping the country running during the COVID-19 pandemic. From groceries to medical supplies, delivery workers have done an excellent job of getting consumers the items they needed during government-ordered shutdowns as well as when they couldn't leave their homes. Unfortunately, while package delivery employees have been working hard to get citizens' all the items they need, they are also putting themselves at a higher risk of contracting the COVID-19 virus.
If you are a package delivery worker in Miami, FL and contracted the COVID-19 virus while on the job, the workers' compensation attorneys at Mario Trespalacios P.A. are ready to assist you with obtaining the benefits you are entitled to.
Because delivery workers are at a heightened risk of contracting COVID-19, their employers should be doing everything they can to help reduce their employees' chances of being exposed to the virus. In a recent news release, the U.S. Department of Labor's Occupational Safety and Health Administration (OSHA) discussed some safety tips for employers to implement that aim to protect package delivery workers from exposure to coronavirus. We have listed those safety measures below for you.
Create a schedule using staggered shifts or one that is more flexible.
"Minimize interactions between drivers and customers by leaving deliveries at loading docks, doorsteps ,or other locations that do not require person-to-person exposures."
Encourage workers to practice good hygiene. In the event workers are at a place where soap and water are not available, be sure they have access to alcohol-based hand rubs containing at least 60 percent alcohol. If possible, employers should provide disinfectants and disposable towels to workers so they can clean work surfaces, including the inside of their vehicles.
Allow workers to wear masks that cover their nose and mouth to help prevent them from catching the virus.
Use Environmental Protection Agency (EPA)-approved cleaning chemicals found in List N or others that are able to fight against the coronavirus.
Encourage workers to report any safety and health concerns.
Although OSHA highly encourages employers to implement these safety measures, they aren't required to do so. However, employers in Florida are required to provide their employees with a safe and hazard-free environment to work in, therefore, it would behoove all employers to implement these safety measures if they haven't already done so.
What if I contracted COVID-19 at work in Miami, FL because my employer wasn't taking the recommended precautions?
If you contracted an illness such as the COVID-19 virus while on the job or suffered any type of injury in a work-related accident, you may be entitled to workers' compensation insurance. To ensure you receive all the benefits you are entitled to, contact Mario Trespalacios P.A. to speak with a Miami, FL workers' compensation attorney today.
Mario Trespalacios P.A. can be contacted at:
9495 SW 72 Street, Suite B-275
Miami, FL 33173
Phone: 305-261-5800
Website: www.mtpalegal.com
https://usattorneys.com/wp-content/uploads/sites/2/2020/06/hand-5247356_640.jpg
640
525
jennifer
https://usattorneys.com/wp-content/uploads/sites/2/2020/01/logo.svg
jennifer
2020-06-02 10:10:09
2020-06-02 10:10:09
What safety measures should employers who oversee package delivery workers implement to reduce COVID-19 exposure?